Kevin Guest Appears on Good Things Utah
Kevin Guest, the author of All the Right Reasons, visited with Good Things Utah on ABC-4 in Salt Lake City on Aug. 16, 2019.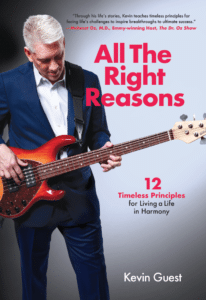 When he published his book last year, Kevin set an ambitious goal to provide 1 million meals for children in need (one book sale equals 40 meals delivered in cooperation with the USANA True Health Foundation).
Well, less than a year later, mission accomplished!
And now, Kevin's friend Dr. Oz upped the ante (as you'll hear in the above video clip from Good Things Utah). America's Doctor challenged the author to deliver 2 million meals through proceeds from the book.
Challenge accepted!
Kevin appeared on Good Things Utah during USANA's 2019 Global Convention. The event, which welcomed thousands of independent business owners from around the world, included keynotes from Gary Vaynerchuk and Dr. Mehmet Oz, among others.
As part of the event, attendees packed 250,000 — a quarter-million — meals for children and families in Los Angeles. And they did it in just three days!
All the Right Reasons: 12 Timeless Principles for Living a Life in Harmony is available on Amazon. All proceeds benefit the USANA True Health Foundation and its mission to feed hungry children. Each book purchase helps to provide 40 meals.
https://www.kevinguest.com/wp-content/uploads/2018/08/Kevin-Guest-Logo-White.svg
0
0
Tim Haran
https://www.kevinguest.com/wp-content/uploads/2018/08/Kevin-Guest-Logo-White.svg
Tim Haran
2019-08-19 12:00:09
2019-08-21 11:31:27
Kevin Guest Appears on Good Things Utah