The Holland Principle: Find Opportunities to Serve, Then Act
This time of year is always special for me. It's a time to reflect on what's truly important in our lives, to give thanks and to express our gratitude. It's also a time to serve others. I've been thinking recently about The Holland Principle, one of 12 principles included in All the Right Reasons.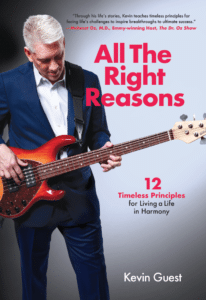 Each of us has a great capacity to help others, to make someone's life better. That, in a nutshell, is The Holland Principle.
Find opportunities to serve, then act.
When we serve others, we are ultimately working to improve ourselves. I speak a lot about the notion of "giving vs. getting." Often, we're so wrapped up in our own busy lives, that we forget the importance of helping others. If we can focus more on serving others, I think we'll live a life of abundance.
Speaking of helping others, in less than two weeks we'll be opening the doors on the brand new USANA Kids Eat food packing center. I wrote about the program in my e-newsletter last month (you're welcome to subscribe).
People don't care how much you know until they know how much you care.
As we put a bow on another year, I thank you for commitment to helping make the world a better place. I'm grateful for the many blessings in my life and I wish you a healthy and prosperous 2020.
Please consider contributing to the USANA Foundation. Its mission is to ensure that impoverished children and families reach their fullest potential by providing food and nutrition.
https://www.kevinguest.com/wp-content/uploads/2018/08/Kevin-Guest-Logo-White.svg
0
0
Kevin Guest
https://www.kevinguest.com/wp-content/uploads/2018/08/Kevin-Guest-Logo-White.svg
Kevin Guest
2019-12-09 13:30:20
2019-12-09 13:59:30
The Holland Principle: Find Opportunities to Serve, Then Act