The Butch O'Hare Principle: You Have the Power to Change
You've heard me talk a lot about priorities and how to determine what matters most to you. At USANA, we prioritize our core values — Community, Excellence, Health, and Integrity. In my book, All the Right Reasons, the Butch O'Hare Principle demonstrates a commitment to doing the right thing.
No matter which road you've traveled in life, you're always able to change. You have the power to be a force for good. You can work to improve not only your life but the lives of those around you.
Below is a news release that went out on July 1. It explains more about the Butch O'Hare Principle.
—————–
Declaring July the "Butch O'Hare Principle" month, USANA CEO Kevin Guest is drawing from his bestselling book, All the Right Reasons: 12 Timeless Principles for Living a Life in Harmony, to emphasize that every person has the right to change no matter their past.
"Butch O'Hare was a World War II hero who flew his fighter plane into a formation of Japanese planes over the Pacific Ocean to protect a U.S. fleet of ships," said Guest, who leads USANA Health Sciences (NYSE: USNA) globally. "In his daring attempt to protect his fleet, he destroyed five enemy bombers in less than four minutes. He became the Navy's first Ace of WWII and the first Naval aviator to be awarded the Congressional Medal of Honor by U.S. Pres. Franklin D. Roosevelt."
Butch O'Hare: The Ability to Change
The backstory is equally compelling.
"Butch was the son of Easy Eddie, the gifted lawyer who kept Al Capone out of jail during the 1920s and '30s during Prohibition in Chicago," Guest said. "While he made millions and lived lavishly in a mansion, Easy Eddie wanted to right his wrongs and give his son a life without a tarnished name.
"With that, Eddie publicly testified against Capone, which sent the crime boss to prison and resulted in Eddie being killed 10 months after Capone's release."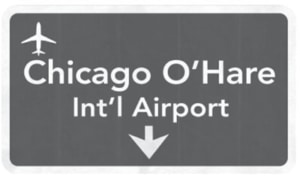 In 1947, the Chicago Tribune publisher proposed that Chicago's new airport be named for Butch O'Hare to honor his heroism during the war.
"We don't know what Easy Eddie shared with his son during his heart-to-heart talks, but Butch developed character traits of loyalty, courage, and humor, which became pillars for future decisions to nobly face enemies to protect hundreds of lives at war."
At USANA Health Sciences, where Guest is CEO of the billion-dollar company, he applies the Butch O'Hare principle.
"Our values, character, yearnings, aspirations, and goals define us," Guest said. "The better we understand who we are and who we want to be, the more centered and steady our lives become. We become sure and steadfast, unmoved by swirling forces around us."
"I urge us all to choose who you will be moving forward no matter your past," he said. "That's when you can best make a difference for yourself and those around you."
All the Right Reasons: 12 Timeless Principles for Living a Life in Harmony is available on Amazon. All proceeds benefit the USANA True Health Foundation and its mission to feed hungry children. Each book purchase helps to provide 40 meals.
https://www.kevinguest.com/wp-content/uploads/2018/08/Kevin-Guest-Logo-White.svg
0
0
Kevin Guest
https://www.kevinguest.com/wp-content/uploads/2018/08/Kevin-Guest-Logo-White.svg
Kevin Guest
2019-07-15 09:00:24
2019-10-18 15:31:44
The Butch O'Hare Principle: You Have the Power to Change