USANA Athletes Stand Atop the Podium 🥇
When one group encompasses all of USANA's core values, it's difficult to fail. USANA Athletes is one such group.
The worldwide contingent of USANA-sponsored athletes checks all the boxes. Community, Excellence, Health, and Integrity are USANA's core values. And they are four values that I believe are critical to achieving greatness.
Throughout the 2022 Winter Games in Beijing, USANA Athletes skied, soared, skated, and slid their way to success.
I invite you to read Allie Henderson's comprehensive recap on What's Up, USANA?

USANA Athletes: By the Numbers
Nearly 150 USANA-sponsored athletes competed in Beijing in February. All told, the athletes from six different countries won 21 medals. The haul included eight gold medals, eight silver, and five bronze. As Allie Henderson, USANA's athlete communications manager, writes: "If USANA were a country, its sponsored athletes and partners would have tied for fourth for the most gold medals and fifth overall."
That's an impressive feat!
Here's a rundown of the athletes who competed in Beijing.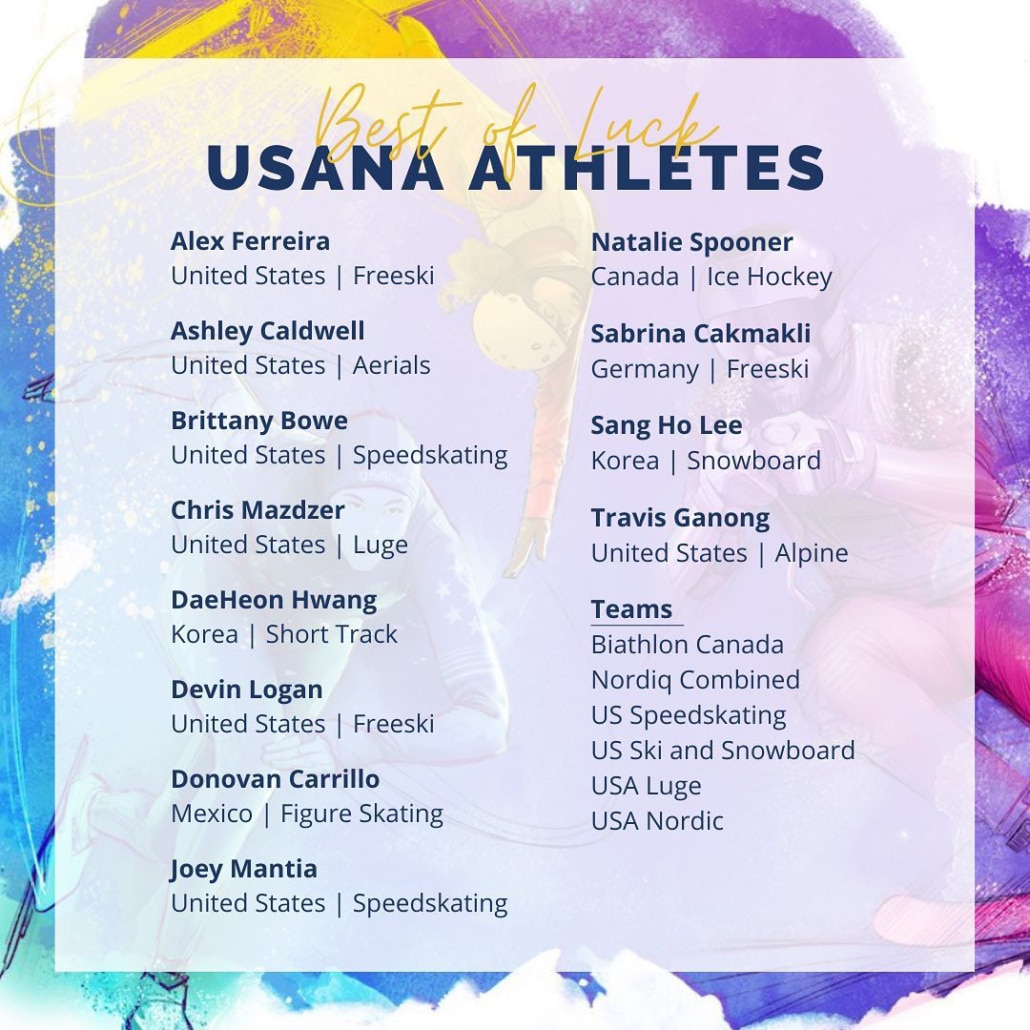 And here are a few individual highlights, courtesy of What's Up, USANA?
Natalie Spooner won her third consecutive Olympic medal (and second) gold as part of the Canadian Women's Hockey Team
American aerialist Ashley Caldwell qualified for her fourth consecutive Games and picked up her first medal—a gold!
US Speedskating, USANA's longest-standing partner, won three medals in Beijing. Erin Jackson won gold in the women's 500m. Brittany Bowe and Joey Mantia each earned a bronze medal.
US Ski and Snowboard finished with 14 podium appearances, including five gold medals
Korean short track speed skater DaeHeon Hwang won gold (1,500m) and silver (5,000m relay)
America freeskier Alex Ferreira earned bronze in the men's halfpipe

Follow Along
USANA's teamed up with world-class athletes for more than two decades. And 2022 marked the sixth consecutive Winter Games in which we've been able to cheer for Team USANA on a world stage.
I encourage you to follow USANA Athletes on Facebook and Instagram — @USANAathletes — to keep up with these incredible individuals and teams.
Images and information courtesy of USANA Health Sciences
https://www.kevinguest.com/wp-content/uploads/2018/08/Kevin-Guest-Logo-White.svg
0
0
Kevin Guest
https://www.kevinguest.com/wp-content/uploads/2018/08/Kevin-Guest-Logo-White.svg
Kevin Guest
2022-03-21 09:00:48
2022-03-15 15:54:40
USANA Athletes Stand Atop the Podium 🥇