News & Notes From Around USANA
USANA Happenings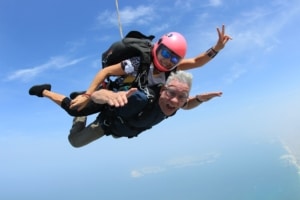 Each month or so I like to touch on a variety of topics or events pertinent to the USANA Family. In this episode, I share a few thoughts on:
A pair of "firsts" I experienced in Dubai
Upcoming trips I have planned before the end of 2019
2019 USANA Live
Two words: Extreme success. The energy at the 2019 USANA International Convention proved to be off the charts.
We're seeing momentum build and pick up in our markets around the world as a result of some of the promotions that we launched. Most importantly, we're expanding and furthering our vision to be The Healthiest Family on Earth.
Americas/Europe Growth Trip
I experienced two "firsts" on our recent trip to Dubai with USANA's top growers from the Americas and Europe. The first "first": riding a camel. And the second "first" you probably saw on social media. I jumped out of a perfectly good airplane.
It was exhilarating and fun. It helped me overcome a fear of mine and have a unique experience. I'm so glad I did it with some of our USANA friends.
Most importantly, on these kinds of trips, I get to connect with our distributor base in a different way. It's very much an opportunity for me one-on-one to meet with those who are really working hard and growing their business
Upcoming Travels
It looks like I'll be packing my bags three more times before the end of 2019. I'm visiting Macau for the China convention. And then I travel to Mexico for a leadership summit event. Finally, I head to Washington D.C. for Direct Selling Association board and planning meetings.
It's a busy few months, but I'm looking forward to it. There's still a lot to do and accomplish. Even more, this is the time of year when we as a USANA management team conduct our strategic planning for the next 12 to 18 months.
Thank You
I can't thank each of you enough for following along, reading this blog, and watching my video messages. I truly believe I'm in the people business, and without you, I wouldn't be who I am.
https://www.kevinguest.com/wp-content/uploads/2018/08/Kevin-Guest-Logo-White.svg
0
0
Kevin Guest
https://www.kevinguest.com/wp-content/uploads/2018/08/Kevin-Guest-Logo-White.svg
Kevin Guest
2019-10-08 09:00:35
2019-10-07 11:14:46
News & Notes From Around USANA