Register Today: 2023 USANA Asia Pacific Convention
The 2023 USANA Asia Pacific Convention is set to take place in Seoul (and virtually around the world) May 4-6, 2023. If you've followed along on my social sites, you've already gained a glimpse into what this incredible event will entail.
I hope you are registered.
I believe attending events such as these is critical to realizing your full potential. It's valuable if you're a USANA business owner. But it's equally valuable if you're looking to improve your career, your emotional intelligence, or even your overall happiness.
Supercharge Your Entrepreneurial Vision
The Asia Pacific Virtual Convention aims to teach, inspire, and empower you with actionable insights and key takeaways. Immerse yourself in presentations and workshops hosted by industry leaders, USANA executives, and leaders throughout the Asia Pacific markets.
The can't-miss event will feature…
Impactful keynote addresses
Extensive workshop training
Recognition
Business-building sessions
A look at the future of USANA
Exclusive product discussions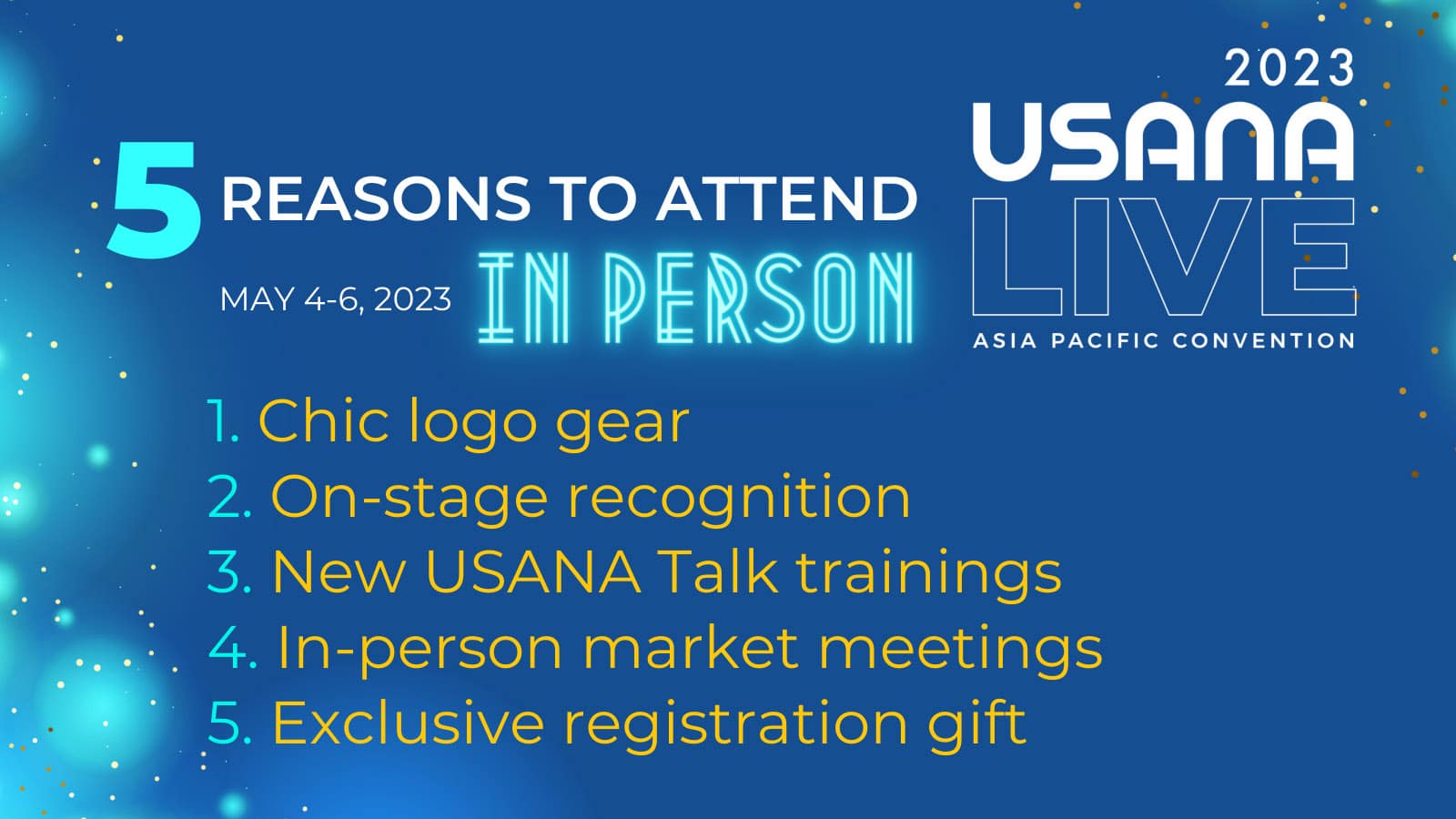 Asia Pacific Convention Keynote Speaker
The keynote stage welcomes Vinh Giang, a world-renowned magician, entrepreneur, and coach.
Vinh gained the entrepreneurial spirit and mindset from his parents, who fled Vietnam to Australia in 1981 and went on to start multiple successful businesses.
His father's belief that "life is a miracle" inspired Vinh to see the possibilities in his own life. Today, he travels the world, teaching communication skills and engaging audiences with energy and flair. >>> Read Vinh's full bio.
Exclusive Share the Vision Reception
This event features an exclusive Share the Vision Reception. USANA's finest will be there, and you can qualify for an exquisite evening of celebration and enrichment.
Earn Your Seat…
Share your passion for USANA products with new customers now through March.
USANA will compare the CVP (Commission Volume Points) you earn to last year's average.
Top 250 Distributors with a minimum of 1,000 CVP growth will earn their seats at the Share the Vision Reception.
For complete details on qualifying, visit The Hub or contact your local leaders.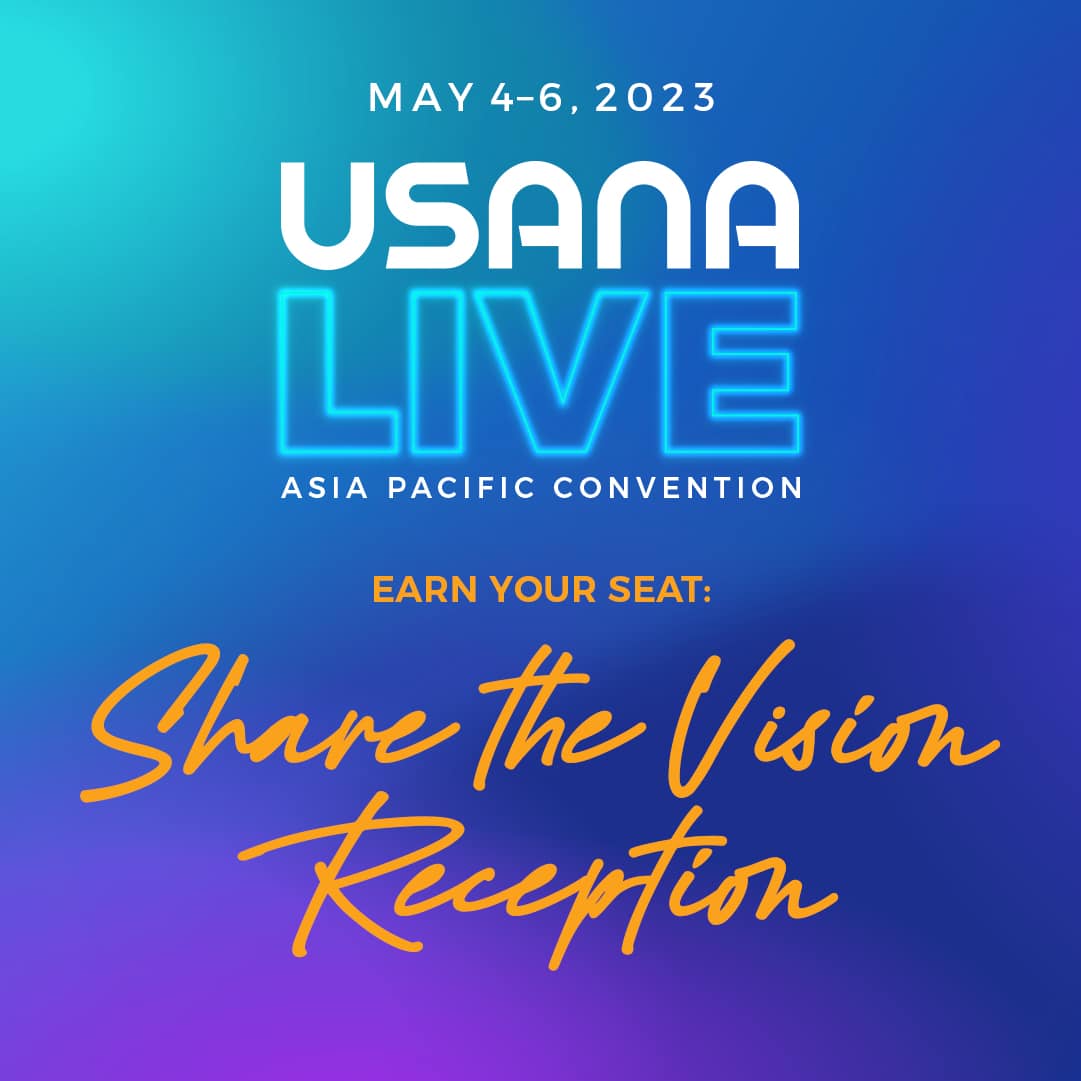 Dr. Wentz Plans to Attend
UPDATE: Announced in February 2023…
Don't Miss Out
Let the event ignite your passion to pursue your entrepreneurial spirit.
Please visit the USANA Live 2023 Asia Pacific Convention website for complete details. It's your guide to a one-of-a-kind event that could help propel you to even greater heights. Oh, and follow along on Facebook and Instagram for the latest developments.
I look forward to seeing you soon! #LiveUSANA #APC23
https://www.kevinguest.com/wp-content/uploads/2018/08/Kevin-Guest-Logo-White.svg
0
0
Kevin Guest
https://www.kevinguest.com/wp-content/uploads/2018/08/Kevin-Guest-Logo-White.svg
Kevin Guest
2023-01-23 12:00:54
2023-02-22 10:57:47
Register Today: 2023 USANA Asia Pacific Convention