5 Ways to Boost Employee Morale
Employee Spirit Month, which is celebrated each March, honors all hardworking employees. In celebration, I'd like to share five ways to boost employee morale for ongoing, upward progress.
When employee morale is high, we see productivity soar. So it's important to keep morale at a high level for many reasons. Boosting employee optimism can happen with five proven ways that enhance individuals, teams, and companies.
In my book, All the Right Reasons, 12 Timeless Principles for Living a Life in Harmony, I write that nothing is more important than relationships. Realizing that, at the core, companies are primarily groups of people providing services or products. Lifting employees higher benefits everyone with high-level positivity.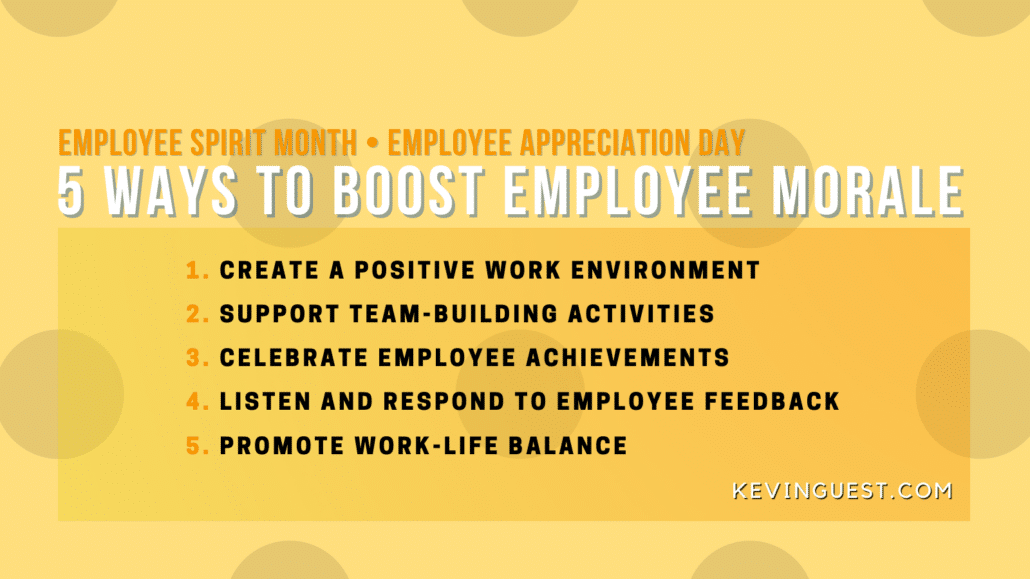 1. Create a Positive Work Environment
An upbeat work environment reduces stress and provides an atmosphere of collaboration and communication, which benefits every organization.
2. Support Team-Building Activities
Team-building activities unite people because they let employees bond over shared experiences outside of work.
3. Celebrate Employee Achievements
When a supervisor genuinely shows appreciation for an employee's good performance, it makes a huge statement that the company values each person.
4. Listen and Respond to Employee Feedback
While making the work environment a safe place to share feedback is important, it's equally valuable to show employees you are acting on valid points they've raised. If you simply can't act on their suggestions, you have to state that and give a valid reason to continue to lead with trust and respect.
5. Promote Work-Life Balance
In today's sometimes fatigued work world, promoting work-life balance acknowledges that company leadership understands employees have important personal lives that should be addressed.
Each circumstance calls for its own practices, but mental balance is key because when employees are balanced in life, they bring that stability and happiness to work, which results in more productive results at every level.
I shared these thoughts and more in a news release that went out on March 1, 2023, to commemorate Employee Spirit Month. All the Right Reasons: 12 Timeless Principles for Living a Life in Harmony is available on Amazon. All proceeds feed hungry children, with each book purchase providing 40 meals.
https://www.kevinguest.com/wp-content/uploads/2018/08/Kevin-Guest-Logo-White.svg
0
0
Kevin Guest
https://www.kevinguest.com/wp-content/uploads/2018/08/Kevin-Guest-Logo-White.svg
Kevin Guest
2023-03-01 07:00:55
2023-04-02 17:16:11
5 Ways to Boost Employee Morale